Everything We Don't See (2015).
It's been a great few months: exhibiting my degree show piece at the Affordable Art Fair and my Untitled (Ackermann Quantise) series at Christie's, finding new homes for my work and drawing attention from both here and abroad.  Going into next year, I am very excited to be exhibiting at the Blitz gallery in Malta in March having won funding from the Maltese Arts Council.  Stayed tuned for more updates on this one.
Following on from this recent success, I have put together my collection of recent prints in a new portfolio including some text detailing how they link to the rest of my practice.  While you can download a copy here Libby Heaney – print portfolio 2014-2015, here's a few of the prints I speak about.
"The following two prints were therefore created by reading two of my favourite stories about time – The Garden of Forking Paths and The Immortal by Borges – to my computer and the triangles of the original drawing were made to spread out and disperse."
Time's Tattarrattat – The Immortal (2015).
"Like the clouds continuously changing their form in the sky, for each text read into my code a previously unrealised art work was created. "
Time's Tattarrattat – The Garden of Forking Paths (2015).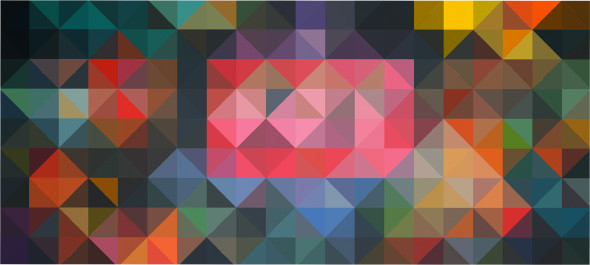 Rose (2015).