Better late than never.  It's been a busy month since this show, but it has given me a chance to reflect and think about my piece Phoxel Tarot that was exhibited at the Internet Yami Ichi at the Tate Modern.  Also (YAY!) it was featured in the Guardian.
The piece consisted of two parts.  One was a digital fortune telling machine.  Phoxel.  Who would read visitors their fortunes constructed from bylines of applications… The second part was myself performing as Layla Swan – a fortune teller whose business had suffered from people going online for readings.  She therefore arrived at the fair set to fight back having made a pack of fortune telling cards featuring symbolism for our digital age.
All the meanings of the cards are faithful to the original 22 major Arcana tarot cards and they were used to discuss people's online and offline futures.  Even though the Yami Ichi was about the Internet IRL, people were much more interested to have their tarot read by Layla than engage with the machine I'd made.
The cards were thus used as props to answer questions that people posed about mostly their but occasionally the worlds future, creating narratives that weaved in and out of the digital and real realms with multiple meanings that that audience could engage with on their own terms.
Some of the questions asked were deep, while others were superficial.  For instance, one person was asking about babies another about her divorce and conversely someone wanted to know where to go for dinner.   One guy in his mid-40s asked about his sex life – he received the tower card, which represents physical destruction – with obsolete websites falling from a server.
Layla recommended that he get rid of any unwanted websites if he wanted his physical sex life to improve.
This was only the second time I've used myself in my work, but in spite of this, the same themes that run through the rest of my practice were present in this piece too.  For example pattern making, a critique of technology, complexity, computation, interactivity, time and as with God's Dice a hint of magic.
After the readings Layla asked people to write their thoughts about the reading in a testimonial book.  Here's a selection of the best…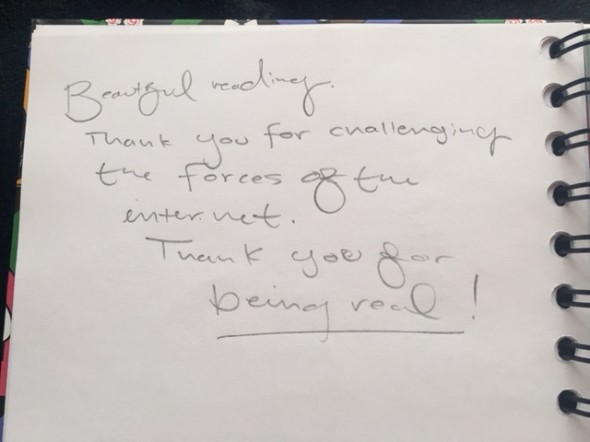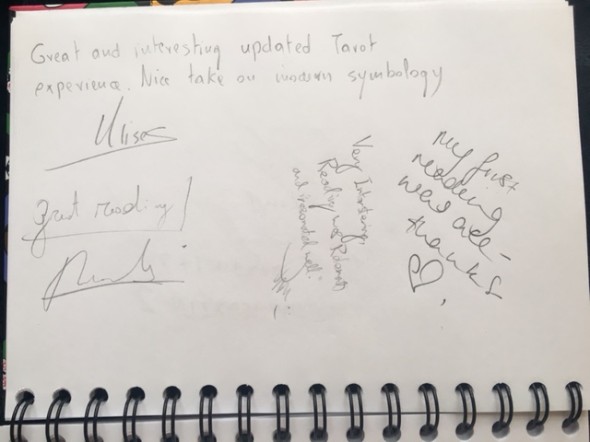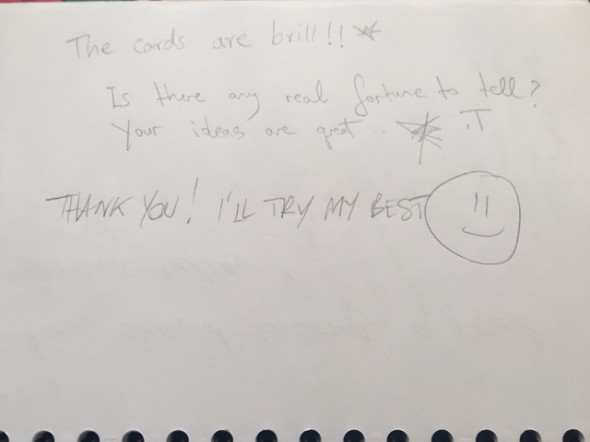 Photo credits 2 and 4: Yinan Song