Some of my digital prints are part of the Made in Arts London Christmas Collection.  They're quite different to my previous work, so I want to tell you the little story behind them.
In the build up to my solo show Computation Cloud (above, November 2014), I was experimenting with virtual versions of the installation.  This involved making animated interactive 3D models of the piece, and pixellating appropriated images to provide a colour scheme for the octahedrons.  Since I was bringing the digital world to a physical setting, I really wanted to use bright colours to attract viewers towards the piece and also to have a painterly handmade quality to the elements.  In the end, my intuition led me to the following image as a basis for the elements in Computation Cloud.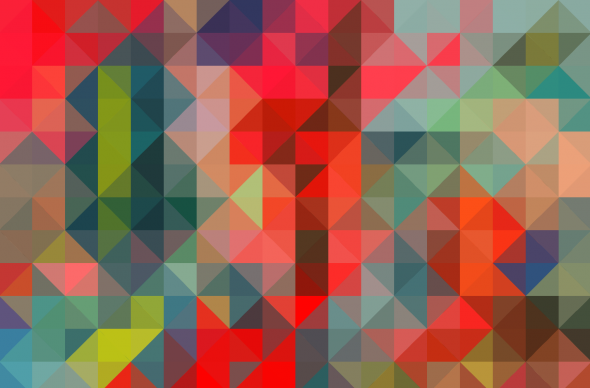 It is based upon a painting by Franz Ackermann – one of my favourite  painters – whose work has been described before by Daniel Birnbaum as "as random as those phantom particles whose position or speed may perhaps be known, but never both at once".  The image was pixellated using one of my original programs to give a digital aesthetic to the installation.  I see this pixellating process as quantising the work – in doing so, I'm deleting information about the state of the original art work, literally lowering its entropy.  And I love the result: blurry digital fragments of an already hyper reality lurk in amongst the triangles.  The image above was printed in an edition of just three and there is still one available (email me if you are interested!).
My prints available via Made in Arts London are an extension of this work.  I wanted to see how Computation Cloud would look when people were interacting with it.  So I programmed my app to randomly change some of these triangular pixels to white (as happened in the installation itself).  These are a few of the outcomes.  Each print is unique as the computer ensures no two are the same.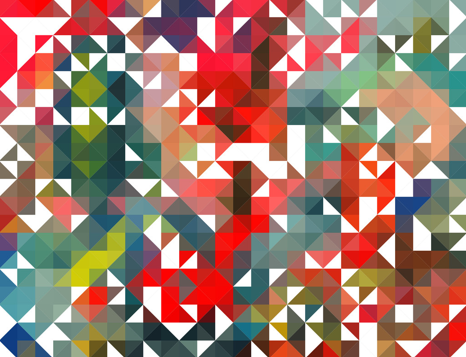 I also have a few lovely animations of these images deconstructing over time and a time lapse of Computation Cloud itself, which I'll try to post very soon.
Happy Christmas folks x